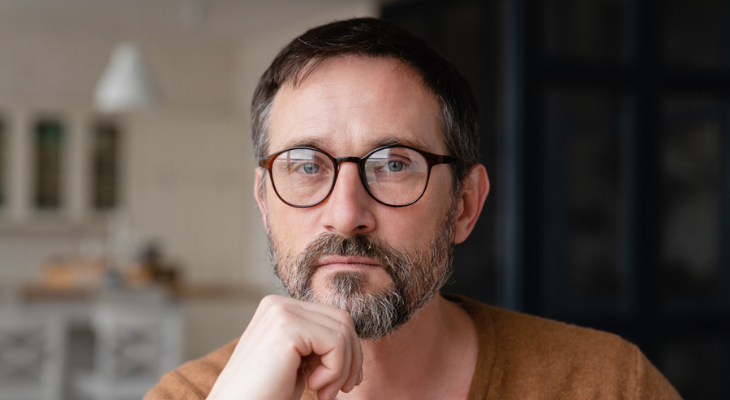 Feeling Anxious or Depressed After Vision Loss?
It's only natural to feel anxious, depressed, or upset when a disease or injury damages your eyesight. After all, losing some or all of your vision is a major, life-changing event.
Signs of Mental Health Issues
Although everyone experiences mental health problems a little differently, some signs are fairly common. If anxiety has become a problem after vision loss, you may feel tense and on edge. Obsessive worrying may also be a sign that you're struggling with anxiety. Concerns about the future and the life changes caused by your vision problems may prevent you from falling asleep and staying asleep. Other signs and symptoms of anxiety may include:
Sweating
Shaking
Rapid Breathing
Shortness of Breath
Heart Palpitations or Increased Heart Rate
Fatigue
Tingling or Numbness in Hands or Feet
Headache
Stomachache
Diarrhea
Irritability
Difficulty Concentrating
If you're depressed, you may notice some of these signs:
Sadness
Crying Spells
Disinterest in Your Usual Activities or Hobbies
Difficulty Finding the Energy to Do Everyday Things, Like Showering or Cooking
Appetite Changes
Weight Gain or Loss
Constant Fatigue
Sleep Issues
Feeling Helpless or Hopeless
Irritability
Trouble Focusing
People who've lost vision due to glaucoma, age-related macular degeneration, diabetic retinopathy, and other eye diseases often worry about how they'll work and care for their family or how they'll be able to enjoy a full, active life with vision loss.
According to a literature review in Clinical Ophthalmology, depression is a common problem among people who have visual impairments. In one study, almost 33% of visually impaired people reported symptoms of mild depression, while 45% of people with severe vision impairment said they were moderately depressed in another study.
What to Do If You're Experiencing Mental Health Issues
Too often, people feel guilty or ashamed if they have mental health issues, yet they wouldn't feel the same way if they had the flu or a broken leg. Mental health issues are health problems and are no different than any other condition or illness.
If you're feeling sad or anxious following vision loss, take these steps:
Tell Someone. Let your family members and friends know how you're feeling. They can offer a safe place to vent about your situation and can provide support and assistance when you're not feeling up to making dinner or cleaning the house.
Talk to Your Family Doctor. Your family doctor can prescribe medication that controls your symptoms and helps you feel like yourself again.
Consider Therapy. Your family doctor can also provide recommendations to counselors, psychologists and psychiatrists. These professionals offer therapies that decrease anxiety, depression and stress and improve coping skills.
Let Your Optometrist Know About Your Struggles. If you have some remaining vision, your eye doctor can recommend aids and lenses that help you make the most of your eyesight. Although your vision loss may be permanent, magnifiers, telescopes, prism lenses and other eyeglass changes could help you maximize your remaining vision.
Use Low Vision Devices. Low vision devices and aids could make your life a little easier after vision loss. Many options are available, including handheld magnifiers, large print books, audiobooks, and text-to-speech devices that read printed words. Smartphone apps that describe objects or read texts or words can also be helpful.
Try Vision Rehabilitation. During vision rehabilitation, you'll try low vision aids, learn new ways to complete everyday tasks, and receive orientation and mobility training that will help you travel safely. When you're feeling more in control of your life, you may notice that depression and anxiety symptoms become less severe.
Join a Support Group. Support groups offer the opportunity to meet others experiencing the same issues and challenges. Vision Aware offers a list of support groups, although you may also find groups online on sites like Facebook or Reddit.
Do you need a little help managing your vision loss? Contact our office to schedule an appointment with the optometrist.
Sources:
Clinical Ophthalmology: Visual Impairment and Mental Health: Unmet Needs and Treatment Options, 12/3/2020
CDC: Vision Loss and Mental Health
All About Vision: Vision Loss and Mental Health: Learning to Cope and Overcome, 5/10/2022